Secondo appuntamento con la recensione Commander, Amonkhet.
La recensione sarà divisa in più articoli per non appesantire la lettura, in
nero e rosso
verde, multicolore e incolore
Salvo espansioni particolari con cui si necessiterebbero variazioni a questa struttura per una migliore lettura e comprensione.
Buona lettura quindi!
(Articolo a cura di Steamflogger Boss e Alessandro, Adepto Terra)
Nero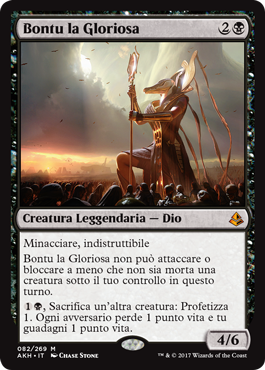 BONTU THE GLORIFIED
Questa dea cerca di fare diverse cose ma forse anche per questo non riesce ad essere di grande impatto. Sebbene far morire una nostra creatura non sia un ostacolo troppo pesante al rendere Bontu utile in combat non risplende troppo in questa fase. E' un sac outlet, ma non è free e quindi inadatto ad essere un pezzo combo; inoltre gli effetti dell'abilità sono sì utili ma molto marginali per giustificare 2 mana e una creatura saccata. In qualche mazzo si può giocare fra le 99 imo, brutta come comandante.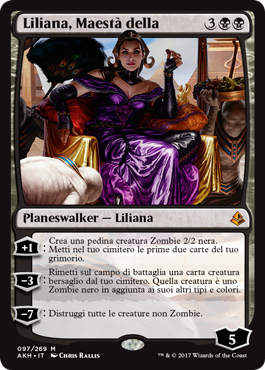 LILIANA, DEATH'S MAJESTY
Carta perfetta per mazzi a base cimitero e/o tribali zombie. In particolare si incastra perfettamente nella strategia di Sidisi, Brood Tyrant, dato che tutte e tre le sue abilità sinergizzano con il gamelplan: l'automill della prima significa pezzi come Wonder al cimitero e altri possibili zombie creati dalla comandante; con la seconda possiamo recuperare qualche grossa creatura millata in precedenza (tipo un Craterhoof Behemoth con cui chiudere la partita); la terza è una whratta che non tocca le nostre pedine.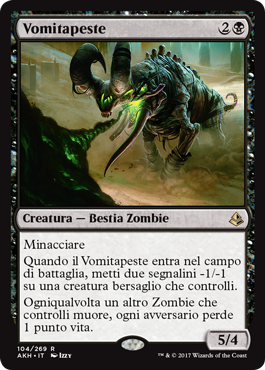 PLAGUE BELCHER
Unica utilità in un tribale zombie, ma salvo pesanti abusi della sua abilità statica, non è così influente sul campo di gioco.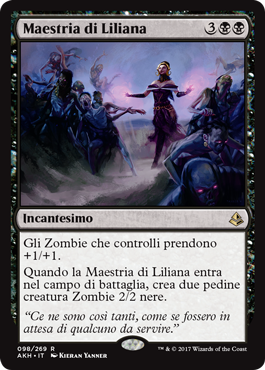 LILIANA'S MASTERY & LORD OF THE ACCURSED
Un paio di lord per il tribale zombie:
-l'incantesimo costa tanto e le due pedine non sono rilevanti
-la creatura è scarsa rispetto agli altri lord zombie 2/2 a costo 3, ma può fornire pseudo-evasività.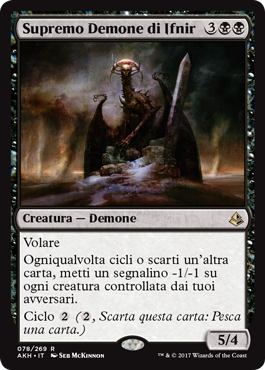 ARCHFIEND OF IFNIR
Body volante solido, possibilità di essere ciclato (e magari prontamente resuscitato) e bellissima abilità che fa da sweeper lo rendono una solida creatura, sinergica con Chandra, Flamecaller, effetti wheel of fate. Ecc…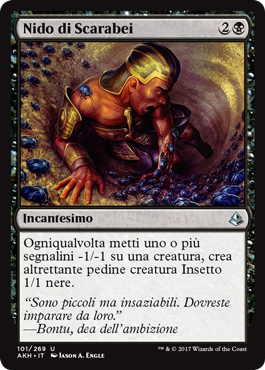 NEST OF SCARABS
Ha senso solo in mazzi che possono abusare dei segnalini -1/-1, pèer cui guardiamo a: creature, con persistere, Atraxa Pretors' Voice, Hapatra, Vizier of Poisons, eccetera.
Versione al nero di Flourishing Defenses.
Questa + Blowfly Infestation (+ qualcosa che mette un segnalino -1/-1) e facciamo una combo infinita dando i segnalini alla nuova pedina che viene sfornata (quindi EtB infiniti); se abbiamo anche Doubling Season possiamo dare infiniti segnalini -1/-1 alle creature avversarie, facendo una vratta assimmetrica de facto.
Rosso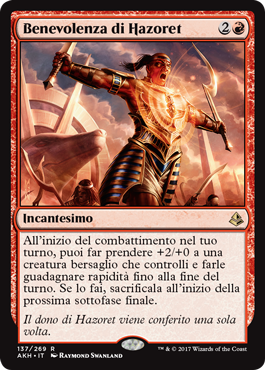 HAZORET'S FAVOR
Interessante se vogliamo fare un "1 combat 1 kill" con una singola creatura, o se comunque la nostra strategia è quella di giocare creature enormi e che si vadano a schiantare sull'avversario morendo in ogni caso. Probabilmente è una aggiunta per mazzi capitati da Xenagos, God of Revels.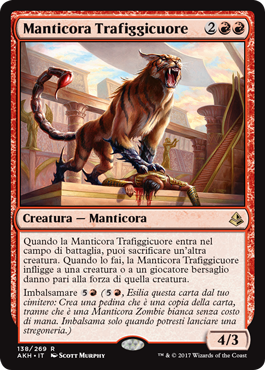 HEART-PIERCER MANTICORE
E' un Fling (opzionale) su gambe, e tenendo conto che in Commander le creature sono molto più sfruttabili delle spell (più facilmente bersaglio di recursion, tutorabile di Pod, Chord o GSZ) presumo che questa manticora sarà giocata.
Come non bastasse ha anche Embalm che ci permette di recursionarla per una volta senza aiuti esterni. Bella carta.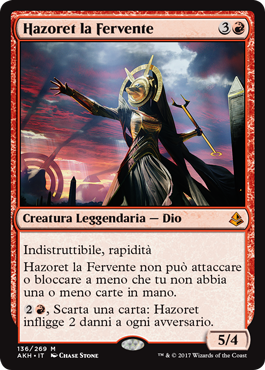 HAZORET THE FERVENT
Brutta, davvero brutta in EDH, ma essendo leggendaria mi tocca spenderci due parole.
Indistruttibile, e fin qui va bene.
Body nemmeno così eccezionale per un drop a 4.
Rapidità, ma un drawback che non la fa attaccare a meno che siamo in "Hellbent".
Abilità che la rende discard outlet, MA costa 3 mana e fa un effetto davvero ridicolo… almeno bersagliabili quei danni? No?
Davvero un sottobicchiere in questo formato, la vedo male persino in possibili mazzi a tema "sto senza carte in mano e scarto". Ingiocabile quando Purphors, God of the Forge esiste, persino se gioco 4fun.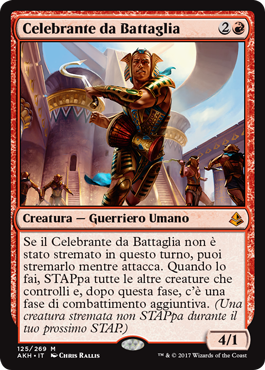 COMBAT CELEBRANT
Avendo modi di blikarlo o di crearne copie (o eventualmente basta dargli cautela o stapparlo) può essere un interessante effetto alà Aggravated Assault, ma comunque quel body risicatissimo lo rende un pezzo fin troppo fragile da solo.
Il forum italiano sul formato Commander e le sue varianti. Articoli su strategia, recensioni e primer su EDH Multiplayer, French, Pauper ed altro ancora. Zonadicomando.forumfree.it
Latest posts by Zona di Comando (see all)