Recentemente ho avuto modo di ritornare a giocare EDH multiplayer, cosa non molto facile dove gioco io, a causa della prevalenza di formati competitive (e della mia preferenza verso di essi). Mi ha dato una alternativa valida ai soliti Modern, Pauper, T2 e simili, permettendomi di cambiare aria e dandomi modo di apprezzare il lato gioco da tavolo di MtG.
QUI trovate la recensione Pauper
QUI trovate la recensione Standard
QUI trovate la recensione Modern
Hour of Devastation: com'è?
Questa volta procederemo ad una analisi meno rigida e senza punteggi, in virtù anche del fatto che il formato viene largamente giocato for fun e multiplayer.
Bianco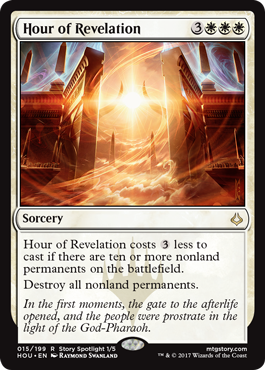 Hour of Revalation è rischiosa perché non bersaglia solamente le creature e quindi c'è il rischio che si mangi pure i nostri artefatti (sassi da mana, spade,ecc.) ed incantesimi (es. Ghostly Prison), ma in un ambiente di gioco da 3 o più giocatori può risultare una ottima mass removal, più che per il costo, per il fatto che distrugga proprio tutto (tranne le terre) e non solo le creature, permettendo di rimuovere con una sola carta TUTTI i permanenti fastidiosi (povera Zedruu the Greathearted).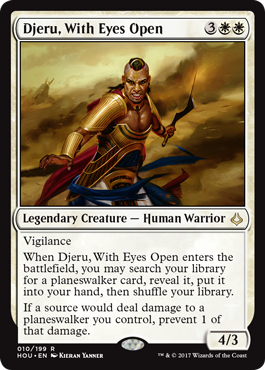 Djeru, With Eyes Open è un'ottimo tutore in mazzi SuperFriends, poco da dirvi. Rispetto a Call the Gatewatch costa 2 in più, ma ha un secondo effetto che tutela un pochino i nostri viandanti ma, cosa più importante, essendo la sua abilità una EtB, possiamo abusarne graze a carte come Eldrazi Displacer o Venser, the Sojourner.
Blu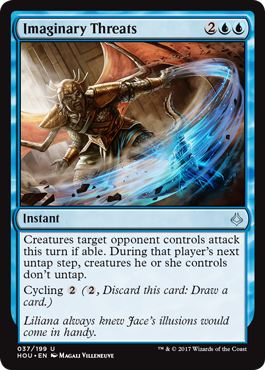 In multigiocatore, Imaginary Threats permette di scoprire totalmente un avversario scomodo fino ad un massimo di due turni, così, per accanirsi in 2 o più giocatori contro di lui (e voi magari avete Propaganda in gioco).
Carta con un potenziale politico e strategico elevato.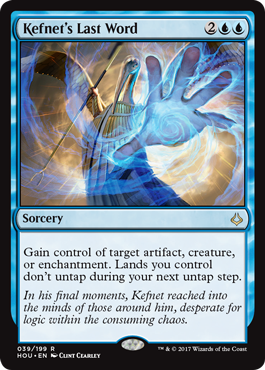 Il lato positivo di Kefnet's Last World è che è versatile e che permette al blu di interagire con permanenti contro i quali avrebbe altrimenti poco da dire.
Al drawback di non poter stappare le terre il turno dopo si rimedia grazie a sassi e accelerini.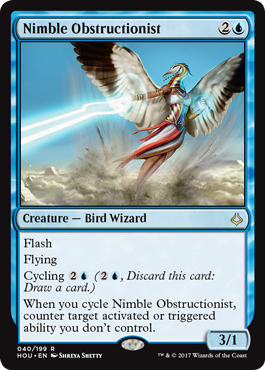 Stifle che non può essere neutralizzato tranne che da Stifle e che si cicla? In EDH potrebbe essere migliore di Stifle stesso o comunque meritarsi un posto assieme a questa carta da cui si ispira.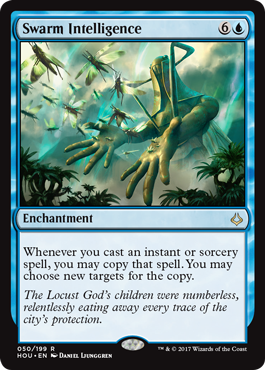 Costo veramente alto per una carta che però potrebbe fare game da sola.
Swarm Intelligence potrebbe permettere pure chiusure "combo" simili a quelle che Pyromancer Ascension faceva in Modern (basti pensare solo al fatto che tutti peschini che facciamo vengono copiati).
Nero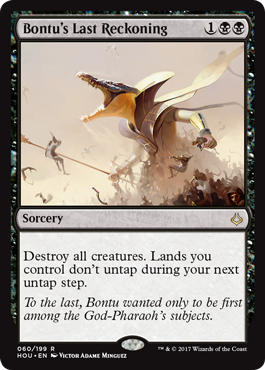 Bontu's Last Reckoning è nuovamente una ass removal a cc3. Forse il drawback in questo caso è più alto, però rimane comunque una carta il cui costo di mana mi incentiva a provarla.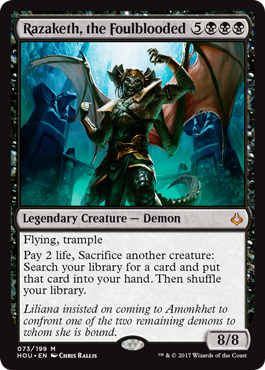 Personalmente vedo bene Razaketh, the Foulblooded in mazzi come Marrow-Gnawer che spammano pedine a nastro con effetti ripetibili e continui , per avere modo di chiudere di combo (il topo scomba con Thornbite Staff ad esempio) tutorando i pezzi mancanti.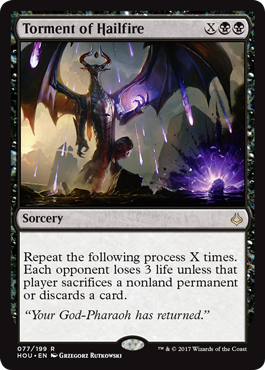 Dice ogni avversario ed ha X nel costo di lancio. Due buoni motivi per giocare Torment of Hailfire, che inoltre non lascia delle scelte tanto facili da essere prese alla leggera.
Unica pecca è che può risultare spesso situazionale, motivo per cui può essere anche una buona finisher, ma bisogna saper valutare bene bene il timing di giocata.
Rosso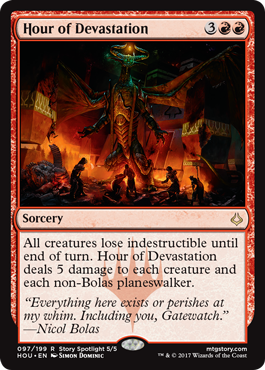 La carta che prende direttamente il nome dell'espansione (Hour of Devastation) permette finalmente al rosso di avere una carta (oltre a Chaos Warp) capace di gestire creature con la keyword Indistruttibile.
È inoltre una mass removal che può andare a colpire anche i planeswalker e non solo le creature.
Credo siano tutti motivi validi per ritenerla ottima.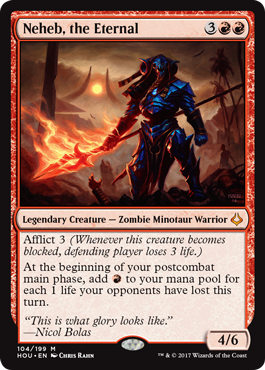 La cito perché potenzialmente Neheb, the Eternal può aggiungere molto mana nella seconda fase principale, basti pensare anche solo all'utilizzo di carte come Impact Tremors in mazzi sciame. Non vedo però molta utilità oltre a quella di essere una grossa fonte di mana (che, ovvio, male non fa).
Verde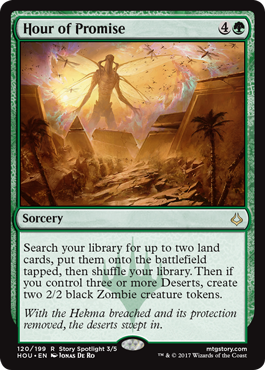 Mi piace perché cerca due terre qualsiasi del mio mazzo e le mette in gioco. Per il resto però Hour of Promise fa schifo: non avrò praticamente mai ben 3 deserti in campo giocando Commander.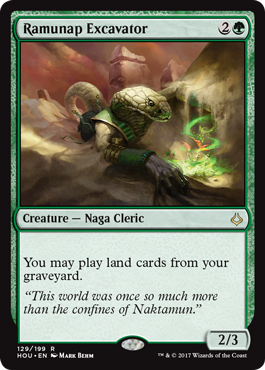 Posso tutorare Crucible of Words con Green Sun's Zenith. Ah, posso avere 2 Crucible of Words nel mazzo (uno è Ramunap Excavator ovv.).
Approviamo su tutti i fronti. Anche Titania, Protector of Argoth e Omnath, Locus of Rage approvano.
Multicolore e Incolore
Per le 3 divinità di bicolore vi rimando alla analisi approfondita.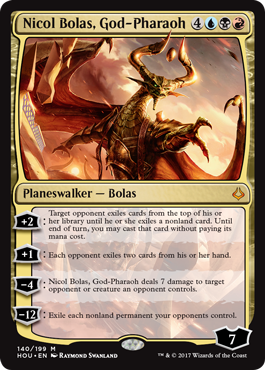 Carta dal costo pesante ma dalla ultimate davvero interessante (è una wratta solo sugli avversari!). Non credo che arriverà tanto facilmente alla ultimate, ma da solo costituisce una brutta gatta da pelare, anche solo per le altre abilità.
La +2 può regalare delle belle sorprese in base all'avversario che scegliamo.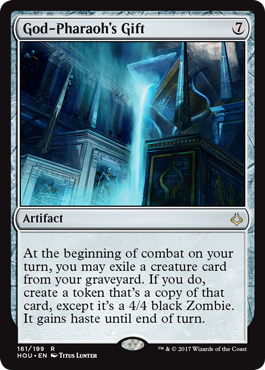 Se non ho recursion dal cimitero e il mio mazzo è creature-based la inserisco suito, sopratutto per il fatto che permette di riottenere creatura da effetti molto presiosi (es. Mother of Runes, Snapcaster Mage, Purphoros, God of the Forge, eccetera).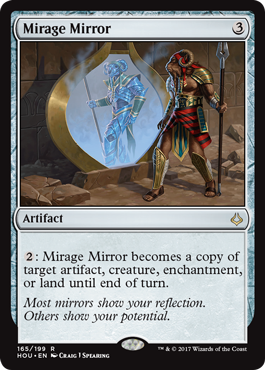 Utility situazionale, ma sicuramente permette di sfruttare al meglio combo, sinergie ed eventuali anche solo dei nostri permanenti (io che gioco spesso verde penso ad esempio alla possibilità di copiare Doubling Season 😀 ).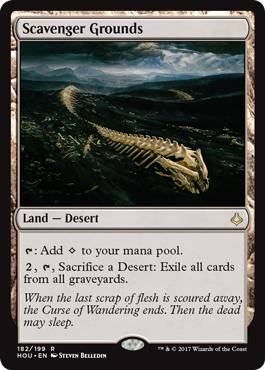 Dato che basta sacrificare un deserto, posso listarla anche solo per rompere questa terra come se fosse un Ghost Quarter che funziona sui cimiteri, piuttosto che giocare sassi come Relic of Progenitus che vanno ad occupare asltri slot utili.
Come al solito fatemi sapere cosa ne pensate di questa analisi EDH Commander l'Ora della Rovina.
Ciao ragazzi!
QUI trovate la recensione Pauper
QUI trovate la recensione Standard
QUI trovate la recensione Modern
Nome in arte di Alessandro Moretti, giocatore soprattutto di Pauper, formato per il quale gestisce la Lega Pauper Veneto. Scrive per vari siti tra cui zonadicomando.forumfree.it dove segue principalmente Commander ed i formati da questo derivati.
Latest posts by Alessandro, Adepto Terra (see all)