Era della Rovina: nonostante sia evidente a tutti quanto il power level dei formati non ruotanti aumenti con il passare del tempo, perché nascono o si sviluppano sempre nuovi mazzi e strategie che ne sorpassano altri (e per le "bombe" che sporadicamente vengono stampate), continuiamo a trovare sempre quelle 1-2 carte che potrebbero entrare nel formato senza troppi problemi.
La valutazione delle carte si baserà questa scala:
Potrebbe essere giocabilie quasi esclusivamente in strategie o mazzi specifici (es. Soul Warden).
È forte ma inferiore a carte già esistenti (es. Doom Blade rispetto a Terminate).
Il potenziale di questa carta è tale che potrebbe trovare gioco a prescindere dalla presenza di carte o effetti simili nel formato (es. Fatal Push).
QUI trovate la recensione Pauper
QUI trovate la recensione Standard
Era della Rovina: Analisi Modern
Bianco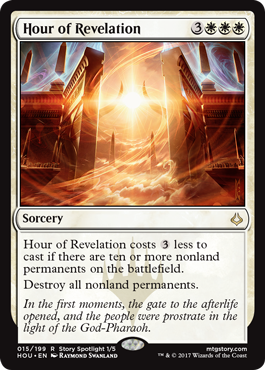 Personalmente è la mia carta preferita di Era della Rovina: una mass removal che va a colpire non solo le creature ma tutti i permanenti non terra, per soli 3 mana.
Come vedete voi stessi però, è una carta molto situazionale e valida solamente contro certi tipi di mazzi che riempiono il board in abbondanza e, dato che non distrugge solo le creature, è ovvio anche che non è il tipo di carta che vogliamo in mazzi Prison tipo Sun&Moon o Enchantment.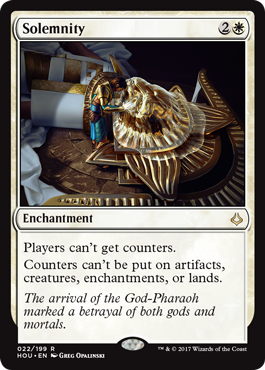 Solemnity: 1
Carta particolarissima, è evidente come potrebbe essere una carta combo in mazzi come Abzan Company, o un palo contro mazzi come Infect (praticamente morto nel meta attuale).
Però per me è un secco no: non ne vedo applicazioni interessanti al momento.
Blu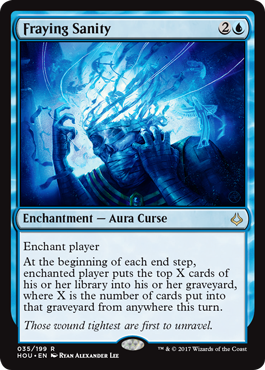 Sembra una bomba per un mazzo come UB Mill: ogni magia che lanciamo gli fa macinare il doppio in pratica.
In altri mazzi non ha praticamente alcuna utilità. O forse può essere una idea carina contro mazzi come Living End o che abusano di effetti alla Thought Scour per Tasigur, the Golden Fang e Gurmag Angler, ma è fin troppo fantasiosa come idea e troppo lenta perché io possa consigliarvela.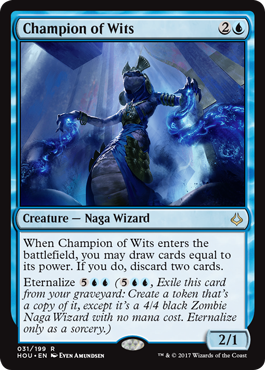 Personalmente mi ispirerebbe in mazzi come Dredge poiché è una carta sempre nell'ottica di Insolent Neonate o Faithless Looting e perché potremmo pure giocarla dal cimitero. Il problema è che dalla mano costerebbe BEN TRE (3) MANA e dal cimitero SETTE (7).
Io non sono un esperto del mazzo, ma a mio parere è un secco no.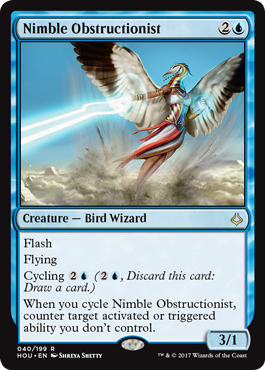 Troppo potenziale in questa carta per non parlarne: Stifle che si cicla e che non può essere neutralizzato da magie normali. :O
Bisogna però trovargli i target adatti (solitamente sono terre: fetch o terre particolari) dato che comunque non fa altro che rallentare di un turno.
Interessante comunque che mal che vada lo possiamo giocare come una creatura evasiva con un buon attacco (picchiamo o pariamo una creatura avversaria).
Nero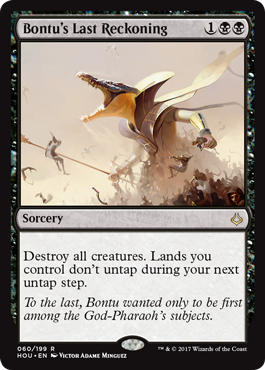 «Eh ma se la gioco a turno 3 poi salto il turno 4», un motivo per cui come carta è da considerabile buona a partire dal quarto turno in poi, così da avere comunque del mana open per altre risposte, cosa facilitata dal suo  basso costo di mana: solo 3 mana per una mass removal nera. Non capita tutti i giorni.
Rosso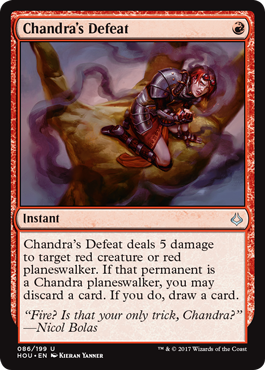 Carta situazionale e prettamente da side, ricordiamocene nel caso il meta dovesse pesantemente virare su mazzi a base rossa o cmq con creature rosse a costituizione alta: 5 danni a costo 1, instant, non è male.
Verde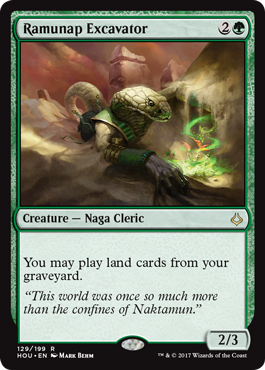 Voto alto perché è un Crucible of Words che può essere sfetchato di Collected Company o Chord of Calling, con tutto ciò che ne consegue.
Nonostante questo, ritengo comunque difficile che alla fine veda gioco: non ci sono strategie di Land Denial molto valide (o presenti) in modern o terre così importanti da riprendere ogni turno (salvo mazzi Tron, che però giocano il Crogiolo stesso, sicuramente più valido in questi mazzi della creatura in questione).
Multicolore e incolore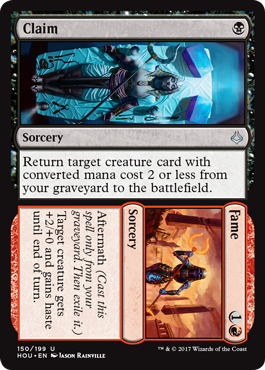 Non è l'Unheart che vogliamo ma è quello che ci meritiamo. Ottimo rapporto costo/effetto, però come qualità della carta in sè rimane inferiore a cose come Kolaghan's Command che fa più cose ed in istant, nonostante non rianimi.
La parte rossa è tipo inutile.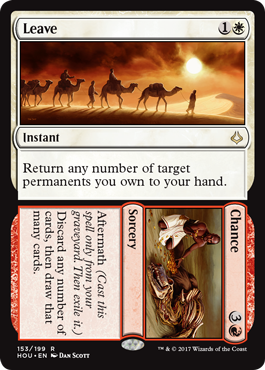 La parte bianca, al pari di  Retract, potrebbe avere aspetti combo (forse in Ovetti se si riuscisse a fare mana in maniere differenti dal sacrificio degli artefatti).
Potrebbe essere interessante valutarla per il fatto che salva dalle rimozioni, ma per questo ci sono pure carte migliori.
La parte rossa è nuovamente una carta che non mi dice nulla: card selection a cc4. :/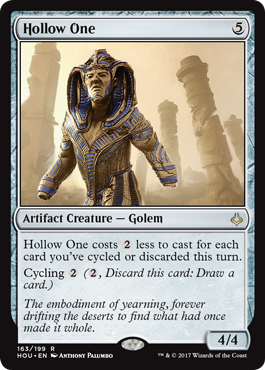 Hollow One: 3
Non una bomba, ma in un mazzo come Living End può entrare a gratis nell'early game sopratutto, e fare da parante nel caso (o comunque già picchiare).
E siamo giunti alla fine di questa recensione di Era della Rovina, fatemi sapere cosa ne pensate!
Ciao ragazzi!
QUI trovate la recensione Pauper
QUI trovate la recensione Standard
Nome in arte di Alessandro Moretti, giocatore soprattutto di Pauper, formato per il quale gestisce la Lega Pauper Veneto. Scrive per vari siti tra cui zonadicomando.forumfree.it dove segue principalmente Commander ed i formati da questo derivati.
Latest posts by Alessandro, Adepto Terra (see all)